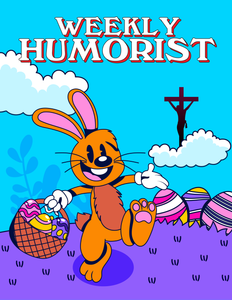 Weekly Humorist Magazine: Issue 231
CONTENTS
Issue 231

A Letter From the Easter Bunny to the World's Candymakers, RE Upcoming Changes
by MELISSA BALMAIN
This Sunday, in lieu of your fine products, each household on my distribution list will receive a special NFT (in France, an N Oeuf T): a one-of-a-kind virtual plastic egg filled with virtual candy.

The Book of Exodus Amended to Include Laxatives
by ROCHELLE ELANA FISHER
12:31 — In the middle of the night, Pharaoh called for Moses and said, "Get up and get out. Take all of your flocks and herds as you have asked." Now Pharaoh was all backed up and so he said, "But you must leave me all your prune juice."

The Last Supper If Jesus Christ Was An Instagram Influencer
by CARRIE PINKARD
I know this seems like a lot of rules, but don't worry. As long as we get this pic right, there's no way you could betray me.

I, The Easter Bunny, No Longer Want To Be Connected To This Creepy 'Jesus Rising From The Dead' Thing
by RACHEL KELLER and MEGAN BROUSSARD
It's hard to paint pastel eggs and label nut-free candy accurately when you have flashes of blood and gaping, festering wounds on a mostly-naked man jutting out in your peripheral.

FAQ About My Brother-in-Law Absolutely Destroying My Toilet
by TROY DOETCH
While I understand that this is the crux of the situation, I would rather not elaborate on how my brother-in-law might have used the toilet in such a way as to absolutely kill it.

An Open Letter To Whoever Is Abandoning Their Used Underwear On The Shower Towel Hook At The Gym
by JASON GARRAMONE
I'm not even sure if, in their current state, we can still refer to them as underwear. No, they're more like a sweat rag with an elastic waist.

Fresh Alternatives To Dying
by MIKE BEHRENDS
Hahahahahahahahahahah ur KILLING me! LMFAO on my way to death! LOL omg moving west to take a job working in the mines!

#DrunkFastFood
by WEEKLY HUMORIST HASHTAG GAMES
White Wine Castle, Gin & Sonic, Jersey Mike's Hard Lemonade, and more #DrunkFastFood on this week's trending joke game!

Cartoons by
David Ostow, Jeff Hobbs, David Gomberg.