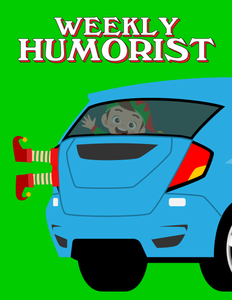 Weekly Humorist Magazine: Issue 214
CONTENTS
Issue 214


I'm a Christmas Elf and There's Nothing Festive About My Legs Dangling From This Car's Trunk
by JASON GARRAMONE
In a disheartening and disgusting twist of fate, it seems people are actually amused by the site of my nearly severed legs flapping helplessly in the wind.

Seven Festive Medleys For the 2021 Holiday Season
by KERI KELLY
You better watch out/ You better not fly/ You better mask up/ I'm telling you why/ Omicron is coming to town.

Ass Weakly Magazine
by KIT LIVELY and PAUL LANDER
Andrew Cuomo New Book: Hands On Politics A Touchy Subject, Ooze With Cruz-Our Q&A With The Slimy Senator, and Ghislaine Maxwell Says "Get Out Of The Dark Ages! Women Can Be Creepy Perverts Too!"

I'm The Peloton Bike That Killed Mr. Big, and I'd Like to Set The Record Straight
by LINDSAY HAMEROFF
An inanimate object hasn't been so unfairly villainized since the crockpot on 'This is Us'.

Bob Ross Teaches the Joy of Painting Your Crippling Anxiety
by SHANNON CARPENTER
Today we are going to put some of nature's masterpieces right here on the canvas. We'll use about a dozen magical colors and the same number of imagined heart attacks.

##TokeAToy
by WEEKLY HUMORIST HASHTAG GAMES
Pot Wheels, Donkey Bong, G.I. Joint, and more #TokeAToy on this week's trending joke game!

Cartoons by
Nathan Cooper, Drew Panckeri, Peter Kuper.