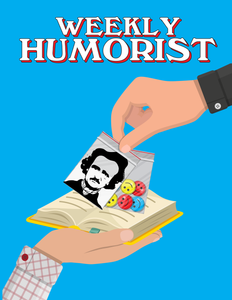 Weekly Humorist Magazine: Issue 237
CONTENTS
Issue 237


Zillow Listing for Ted Cruz's Special Place in Hell
by K.E. FLANN
Why have more than one door when you'll never leave? This is the paradise you thought was only for other people! Every exquisite feature of this bespoke property reflects your public record. Constructed by Unhallowed Homes and occasionally materializing near Cancun...

Reality Show Spinoffs The World's Not Ready For
by JARED CAPPEL
Hundred Thousand Dollar Pyramid Scheme: Competitors enter into a multi-level marketing scheme from which they'll never financially recover. Each time some poor sap buys into the scheme, the show lasts another painful week.

Our Favorite Authors and Their Favorite Drugs
by CAROLINE BEULEY
Edgar Allen Poe: Heroin, 100%. I mean this dude basically invented heroin chic. Wandering around, a gaunt little skeleton man writing about death and insanity.

Fake Product History: The Evolution of KY Jelly
by KIT LIVELY
1939 – 40 New York World's Fair- During the first presentation of the new KY Jelly product, a large container of the jelly is accidentally spilled onto the stage, resulting in the first known instance of what eventually comes to be known as breakdancing.

Closing Credits From The Biopic Of Charles Lindbergh's Baby
by ROBERT CRISS
JENNIFER ANISTON as Search Party Volunteer 21, JENNIFER GARNER as Search Party Volunteer 22, JENNIFER LOVE HEWITT as Search Party Volunteer 23, JENNIFER JASON LEIGH as Search Party Volunteer 24, JASON LEE as Search Party Volunteer 25, and more!

#CelebAFlower
by WEEKLY HUMORIST HASHTAG GAMES
Dafodylan McDermott, Keanu Leaves, Lilly Eillish, and more #CelebAFlower on this week's trending joke game!

Cartoons by
David Ostow, Peter Kuper, Dan McConnell & Paul Lander.