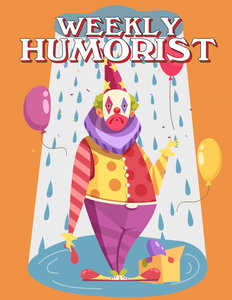 Weekly Humorist Magazine: Issue 246
CONTENTS
Issue 246

Select Scenes From The QAnanny Sitcom
by KIT LIVELY
QAnanny: Nya-ha-ha-ha-nnha-nnha-hnn-ha-nhee-heee Gross Sheffield: What is that… that noise she's making? Is that a laugh? Not-So-Brighton Sheffield: I mean… kind of? She's attempting to use the high-pitched frequency of those noises to short circuit the deep-state hypnotic suggestions that have been hard wired into her brain.

The Life Cycle Of Your New Brita Filter And You
by MICHAEL LEONETTI and CASSIE SOLIDAY
"I don't remember those little black specks being there yesterday." Filter Time: 1–8 Weeks Comments: If we're being honest, we're not sure what those black specks are either, but the water still tastes generally the same. Should I change it?: Meh? We're pretty sure* that they're minerals and not harmful if consumed. *Legally we must advise you not to consume the specks.

How To Prepare Your Meal Kit Dinner in 25 Infuriating Steps: A Tutorial
by ALISSA KING PETERS
Step Six: You just cut yourself. Take a minute to go grab a band-aid, and get back to hand-shelling your own peas, you wuss.

Feminist Anthems Rewritten to Accurately Promote Multi-Level Marketing Schemes
by JUSTINE COTTER
"Girl, You're Out of Funds" (Tune: "Girls Just Wanna Have Fun" by Cyndi Lauper) …Emailing, in the mornin' light, / This work-from-home business has ruined your life./ A pyramid scam, an unfortunate one. / Oh, girl, you're out of funds… Oh, girl, you're out of funds…

Geoffrey's Sad Clown Rental
by BOBBIE ARMSTRONG
Rent a sad clown today and we'll throw in a complimentary car wash. You sit in our 2015 Honda CR-V with the windows up and the doors locked while 3-5 clowns dump tears into your windshield while "Everybody Hurts" by REM plays through the loudspeaker.

#RoastAHost
by WEEKLY HUMORIST HASHTAG GAMES
Yuck Woolery, Lames Corden, Drool Carey, and more #RoastAHost on this week's trending joke game!

Cartoons by
Steve Daugherty, Drew Panckeri,
Lynn Hsu.