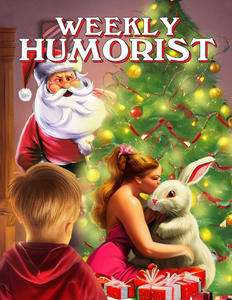 Weekly Humorist Magazine: Issue 267
CONTENTS
Issue 267

Mrs. Claus' Dec 24th To Do (While Santa Is Away) List
by KIT LIVELY
Place Frosty's magic hat onto life-sized cardboard cut-out of Brad Pitt, hope for the best. Hose out Santa's "Naughty Dungeon". And more!

Wing Man
by CRAIG THOMAS
After more than a century of trying, I was finally an Angel/First Class…ironically. Yes, my Wings were gained via sarcasm.

How to Tell if You're Lighting the Menorah or Gaslighting the Jewish People
by EMILY KLING and ROCHELLE ELANA FISHER
If you're hanging out with Jewish friends around sundown during the week of Hanukkah, and you say something like 'the history of Jewish suffering is overrated," you're both lighting and gaslighting.

Christmas Song Lyrics that Go Hard to Sell You a New or Preowned Vehicle
by SARAH LAYDEN
"We need a little Christmas right this very minute," and you need a rebuilt aftermarket Hyundai Sonata in your driveway ASAP. A giant red velvet bow will cover most of the hail damage. (Bow sold separately.)

I Saw Mommy Kissing the Easter Bunny (But So Did Santa Claus, Unfortunately)
by LEE BLEVINS
Perhaps it's only natural that she gravitated towards quasi-mythical holiday gift-bearing immortal figures like Santa Claus. He wasn't afraid of children, not in the least.

#HellishHolidayMovies
by WEEKLY HUMORIST HASHTAG GAMES
A Christmas Gory, Funeral Home Alone, The Satan Clause, and more #HellishHolidayMovies on this week's trending joke game!

Cartoons by
Steve Daugherty, Vaughan Tomlinson, Kit Lively, Bob Eckstein, David Ostow, Mat Barton & Adam Cooper, Steve McGinn.