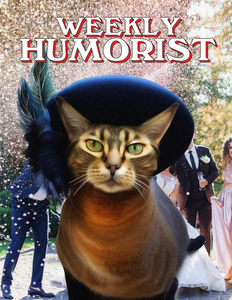 Weekly Humorist Magazine: Issue 274
CONTENTS
Issue 274

Your New Favorite Super Bowl Betting Apps!
by KIT LIVELY and BOB ECKSTEIN
OCD OTB: Allows the user to compulsively check the status of the bet several times per minute. You can also improve the chances of your bet coming in by unplugging your television seventeen times, or counting the number of ceiling tiles twice before the game goes to commercial.

Better Ways to Lay Off Employees Than Locking Them Out of Their Email
by KELLEY GREENE
Snail mail, delivered by an actual snail, Elaborate scroll inside the Cryptex from The Da Vinci Code, Inception, and more!

I Want a Refund on This Wedding Photography Package Because All You Did Was Focus on Cats
by ROCHELLE ELANA FISHER
I have seven nieces and only one of them's in a photo. But even in that one, her face is hidden behind a manx wearing a large felt hat like Meghan Markle. Couldn't you have moved her?

Start Enjoying This Catalog You Think You're Too Young To Get
by WALT MAGUIRE
Sure, you can put on your Clash and your Bush and your Kate Bush, but playing them on vinyl doesn't make you young and wired. It makes you old enough to have the original albums before CDs were invented. Let's talk tweed.

The Church of Jesus Christ of Saints Who Are Always Running Late
by BOBBIE ARMSTRONG
"Have ye inquired of the Lord? He was supposed to be here two millennia ago." - 1 Nephi 15:8

#CrassCoffee
by WEEKLY HUMORIST HASHTAG GAMES
Asspresso, Dickaffeinated, Chock Full O Butts, and more #CrassCoffee on this week's trending joke game!

Cartoons by
Zack Rhodes, Thomas Wykes, Jason Chatfield & John Ficarra.