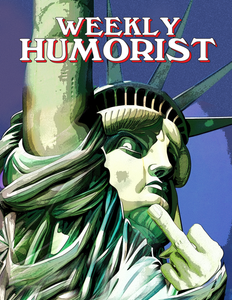 Weekly Humorist Magazine: Issue 276
CONTENTS
Issue 276

At This Performance of "Hairspray", the Role of Wilbur Turnblad Will Be Played by You, Get Up There
by ZACH RAFFIO
We are fully aware that YOU Are an AUDIENCE MEMBER Who came here with no intention of playing WILBUR TURNBLAD But like I Mentioned, it's what our call sheet says...

1-Star Reviews of Major United States Landmarks
by ADAM DIETZ and TROY DOETCH
The Statue of Liberty: Didn't move as much as in the Ghostbusters film. In fact, it barely moved at all. I stared at it the whole time I was there and it hardly moved. If it did, it was really slight. 1 star. And more!

News Briefs: Dating Site For Seniors Stymied By Dial-Up Connection
by KIT LIVELY and WEEKLY HUMORIST NEWS BRIEFS
Plus: Man Hides Liquor Bottle In Same Place He Used To Hide Ex-Wife's Christmas Presents. And more!

21 Voting Groups Now Vying for the Position Formerly Held By Soccer Moms
by TRACY MCARDLE BRADY
Badminton Aunts, Pinball Wizards, Pickleball Playing Bros, and more!

We at the EPA Assure You This Liquid Is Only a Little Spilled Milk and It's Nothing to Cry Over
by ROCHELLE ELANA FISHER
We'd love to hand out some cash and stick around for the cleanup, but unfortunately, we only cover large natural disasters and not a little milk spillage.

#BoozyBoardGames
by WEEKLY HUMORIST HASHTAG GAMES
Tabooze, Connect Pour, Guess Who got drunk, and more #BoozyBoardGames on this week's trending joke game!

Cartoons by
Tyson Cole, Chris Gural, Mat Barton & Adam Cooper.