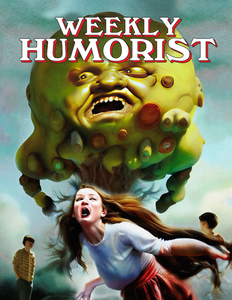 Weekly Humorist Magazine: Issue 281
CONTENTS
Issue 280

I'm Definitely Going to Get Arrested Friday
by JAMES MARINO
I'm going to be arrested Friday for something I haven't done. I know I said Tuesday, but I hadn't thought through all the steps involved. Or Saturday at the latest.

The Eerie Similarities & Distinct Differences Between Cocaine Bear & Smokey the Bear
by JOHN FICARRA
Cocaine Bear is the star of a major motion picture now in release / Despite 75 years of work in television, Smokey the Bear has never made it to the big screen and is currently seeking new representation

Romance Novels for Second Amendment Lovers
by TOM NAVRATIL
In this heartwarming meet shoot, Travis drives his pickup over to his friend Judd's cabin to tell him he won't be able to go on their annual hunting trip because all his guns got seized under a judicial restraining order. Not a problem, Judd says, you can borrow my sister's. His sister sashays out of the cabin pointing her Nosler 21 straight at Travis's face.

PornHub's 2nd Most Popular Searches By State
by KIT LIVELY
Texas: Choking the chicken. An actual chicken. South Carolina: CHiPs in chaps Delaware: Rubes with pubes. And more!

VC Firm Shares Alternatives to Silicon Valley Bank
by AMBER BORN
Place the money at the end of an elaborate treasure hunt. The ideal treasure hunt should take at least fifty years to solve, enabling the value of the cash to appreciate due to the mystery surrounding it.

#FlowerASitcom
by WEEKLY HUMORIST HASHTAG GAMES
Shrubs, Happy Daisies, Carnation 54 Where Are You? and more #FlowerASitcom on this week's trending joke game!

Cartoons by
Chris Gural, Michael Shaw, Dan Misdea.