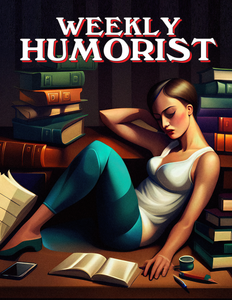 Weekly Humorist Magazine: Issue 286
CONTENTS
Issue 286

Math Word Problems for Writers
by LIZ ALTERMAN
If you sell 600 paperbacks but Amazon lets customers return all of them, how much do you owe your publisher?

I Want You to Have This Book, Which I've Read in the Bathroom
by JONATHAN ZELLER
Here is a gift that I know you will cherish: my favorite novel. I have spent many happy hours laughing and crying with the characters in its pages as I've sat on my toilet.

News Briefs: Study Reveals Exposure To Life Increases Symptoms Of Depression
by KIT LIVELY and DON HOLLEY
Plus: Filthy Christmas Doormat Finally Being Replaced By Way Overdue Spring Doormat, Wife Applies "Birthday Only" Sex Rule To Include Superhero Movies As Well, Remaining Book Club Members Sheepishly Admit The Necronomicon A Bad Idea.

QUIZ: Classic SNL Sketch or Unhinged Social Media Ad?
by ASHLEY K. FRANTIK
You've given up, haven't you? Look, it's only a game and I'm a rapidly advancing AI programmed to solve this puzzle in four turns or less practically every day. If my feedback comes across as patronizing, I sincerely apologize.

Checklist For Things To Bring To Your Next Wedding Weekend
by ZACH MOSER
Jars of incense because you have unfortunately become that person. Flashcards reminding you not to drunkenly namedrop King Tutankhamen. Tupperware with ham and cheese sandwich. (You saw the menu.) And more!

#DangerousDesserts
by WEEKLY HUMORIST HASHTAG GAMES
Chocolate Drownies, Key Lime Die, Cinnabomb Rolls, and more #DangerousDesserts on this week's trending joke game!

Cartoons by
Zack Rhodes, Patrick Hickey, Steve Daugherty.