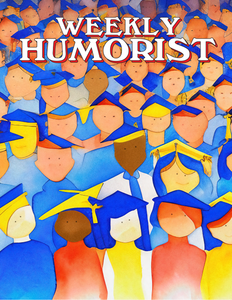 Weekly Humorist Magazine: Issue 288
CONTENTS
Issue 288

The Nine Circles of Helloton
by EMILY HOLI
No pain, no gain. At least that's what the sign on the door says.

My Speech to the 2023 Graduates
by CHRIS MANSON
Congratulations, kindergarteners. And before you go dislocating your shoulders patting each other's backs, you should know that the real world is more than fingerpaints and snack time. And first grade can be a bitch.

Gothmopolitan Magazine
by KIT LIVELY and PAUL LANDER
Doom, Gloom & Vroom: Losing Your Virginity In A Hearse. The Third Date: Too Soon To Drink Each Other's Blood? Goth IRA And 7 Other Deadly Accurate Investment Tips. And more in this issue of Gothmopolitan Magazine.

I Had to Buy This Tent From REI, It Was on Sale and It's Slightly Different From My Other Tents
by VIKTORIA SHULEVICH
I can't wait to try it out this summer. In the meantime, I'll put it away with all my other REI tents in the makeshift gear storage space in the corner of my 800 sq ft apartment.

Unfortunately Fortuitous Quotes From the Animated Film Playing Down the Hall As You and Your Partner Climax
by CALEB COY
"Ready or not, I'm coming in hot!" -Paw Patrol: The Movie (2021)

#StonedSuperHeroes
by WEEKLY HUMORIST HASHTAG GAMES
Dr. Strain, The Hash, Fantastic 420, and more #StonedSuperHeroes on this week's trending joke game!

Cartoons by
Drew Panckeri, Nick Downes, Chris Gural, Thomas Wykes.