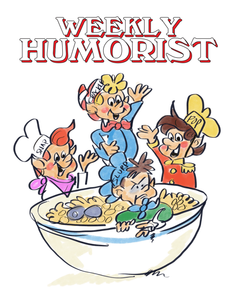 Weekly Humorist Magazine: Issue 209
CONTENTS
Issue 209

Snap, Crackle, Pop, Slurp: An Oral History
by JEREMY HOOPER
SNAP: All was going well. Kellogg's was happy. CRACKLE: But Slurp was really hitting the milk hard. It started with Skim, but he was on Whole benders soon enough.

The Online Reviews I'm Endlessly Scrolling to Find
by SARAH GARFINKEL and YSABEL YATES
Finally: The Most Comfortable Pants In The World That No One Will Say Look Comfortable.

I Must Regretfully Decline Your Invitation to Beef
by JAMES MARINO
My enemies list is highly exclusive and that membership has been closed since you were an ill-considered gleam in your whiskey-addled father's eye.

The Merchant of Venice Emails His Shipping Container Company To Inquire About His Delayed Sex Goods
by ROCHELLE ELANA FISHER
These nasty novelties are needed at once for gifts — this Christian can not ruin Christmas for lonely men seeking safe pleasure play during these plague-ed times.

Bartha Steward Shiving
by KIT LIVELY and PAUL LANDER
Time Off For Gouda Behavior, Adding A Splash Of Fall Medley To Your Gang's Colors, and more in this issue of Bartha Steward Shiving

#HolidayASuperHero
by WEEKLY HUMORIST HASHTAG GAMES
Gho-Ho-Ho-ost Rider, Silent Nightcrawler, The Dark Knight before Christmas, and more #HolidayASuperHero on this week's trending joke game!

Cartoons by
Nathan Cooper, Shannon Wheeler, Mat Barton & Adam Cooper.