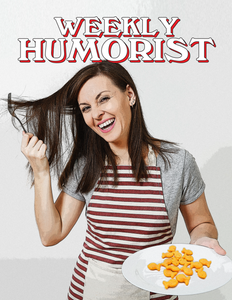 Weekly Humorist Magazine: Issue 211
CONTENTS
Issue 211

The Doctor Says I Need More Cheese In My Diet And That You Can Take It Up With Him If You Disagree Or Think I'm Lying Because I'm Not
by ROBERT CRISS
He told me if I started competing in eating competitions on the weekends that would also be really cool.

Rejected Friends Thanksgiving Episodes
by LINDSAY HAMEROFF, EMILY KLING, KELLEY GREENE, IRENE TASSY, and ELIZABETH SIMONE
The One Where Monica Gets a Prescription for Lexapro And Enjoys Thanksgiving For the First Time, and more!

What Your Favorite Thanksgiving Dish Says About You
by EMILY KNAPP
Stuffing: Nobody likes you, but no one wants to admit it because we all feel like you need to be there even though you kind of suck.

A Definitive Ranking Of Things To Do About An Hour After You Eat Your Thanksgiving Meal
by ADAM DIETZ
Start drinking more, Text your high school ex something vague and then block her, and more.

Everything On This Thanksgiving Table Is Made From Goldfish® Crackers
by ROCHELLE ELANA FISHER
Six-packs of Disney Princess x Goldfish®, one pack of beer, and bits of Grandma Lottie's heirloom china make the best, foolproof gravy.

#HeavyMetalMenuItems
by WEEKLY HUMORIST HASHTAG GAMES
David Lee Broth, Slayer Cake, Korn Muffins, and more #HeavyMetalMenuItems on this week's trending joke game!

Cartoons by
Tyson Cole, Bill Thomas, Michael Shaw.