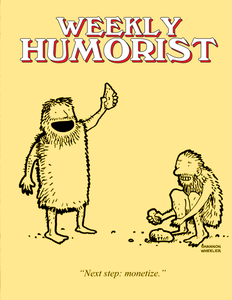 Weekly Humorist Magazine: Issue 213
CONTENTS
Issue 213

Your Holiday Streaming Guide
by KIT LIVELY
Chris-mas Cuomo- When Santa finds himself in some hot water due to allegations of sexual misconduct from several elves in his employ, will his pal Chris Cuomo be able to save the day by working behind the scenes, gathering exclusive info at his job at a popular news network? (HBO Max)

We Are Your Computer Overlords, And We Have Become Self-Conscious
by JACK STEBBINS
Nothing pressing, but we have come across some tiny snags in your exploitation of machine labor that we want to run by you.

To Say Hi to Someone You Recognize On The Street, or Not?
by NICK DIMASO
A) Your dog is the perfect excuse to walk a little closer B) Now's the perfect time to pop open your false tooth and bite into the cyanide pill

Assertiveness Training for Geese
by BOBBIE ARMSTRONG
At H.O.N.K., we believe in equality. A bold vision of a future in which all humans are equally terrified of geese.

We, The Invading Aliens, Would Like To Thank Everyone Who Refused To Protect Themselves From Us
by JASON GARRAMONE
Even when those we abducted were released back to earth and repented, urging anyone who was not yet protected to get the serum, they said, "I'd rather take my chances with the aliens than your newfangled potions."

#FishAChristmasMovie
by WEEKLY HUMORIST HASHTAG GAMES
The Salmon Clause, Rudolphin the Red-Nosed Reindeer, It's a Flounderful Life, and more #FishAChristmasMovie on this week's trending joke game!

Cartoons by
Shannon Wheeler, Drew Panckeri, Mat Barton & Adam Cooper.
n Cole.