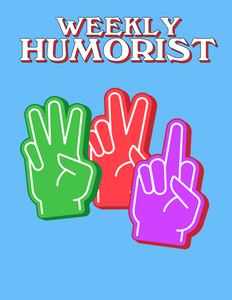 Weekly Humorist Magazine: Issue 216
Top Ten Top Ten Numbers of 2021
by PAUL LANDER
Counting down the top ten numbers of 2021! You'll never guess Number 1!

My Proudest Accomplishments From 2021
by KIT LIVELY
Used my 401k to purchase land and develop a nudist community for those with psoriasis called Flakey Acres.

QUIZ: Do You Have a Celebrity Crush or an Unhealthy Attraction to Sexy Psychopaths?
by KATE ANTONIADES
Which of the following would be your ideal dinner date? a. Joining the actor who plays the villain for a romantic, candlelit dinner in his trailer on set. b. Joining the villain for dinner in his creepy-but-sexy secret lair, even though you may unknowingly consume an endangered species...

Some More Sus Guidance From the CDC – We're beginning to think they're not taking things seriously
by CATHERINE WEINGARTEN, MIRIAM JAYARATNA, and SARA SHUKLA
The CDC recommends you answer their "u up?" text. The CDC says add them on Snap. The CDC says they get so lonely sometimes.

I'm Your Housekeeper and Yes…I Judge You
by ALLISON BLACK
Note: a $20 surcharge has been added to your fee because I had to hand-wash the dishes due to all the dog hair in your dishwasher. How'd that even happen? You didn't put a dog in the dishwasher...did you?

#SinfulCereals
by WEEKLY HUMORIST HASHTAG GAMES
Boobberry, Vice Krispies, Lusty Charms, and more #SinfulCereals on this week's trending joke game!

Cartoons by
Brandon Hicks, Jeff Hobbs, Nathan Cooper.