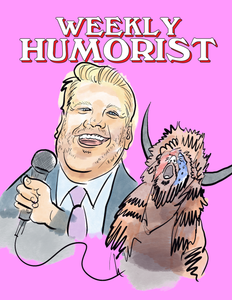 Weekly Humorist Magazine: Issue 217
CONTENTS
Issue 217

A Viewer's Guide to What Would Have Been the 79th Annual Golden Globes
by RYAN UYTDEWILLIGEN
A moment will occur, which people will talk about on social media and meme to high heaven. Most likely a saucy comment made by a British winner or a funny face made by an awkward bystander...

What's IN & OUT For 2022
by KIT LIVELY
OUT Zombie apocalypse / IN Regular old boring apocalypse, and more!

Highlights From The Capitol Insurrection Reunion Special Hosted By James Corden
by MICHAEL LEONETTI
Thanks to our sponsor, Smartwater! Whether you think Antifa staged the Capitol riots or you know Trump supporters did, Smartwater thinks you're smart!

Quiz: Apology from a Jan. 6 Rioter or Comment After a 6-Hour Game of Monopoly?
by WILLIAM VAILLANCOURT
Some members of my family are disgusted with me, I made an impulsive decision while on Pennsylvania Avenue, I felt so isolated during the pandemic that I just wanted to do something as part of a group...and more!

Shiv Roy's Tips for How To #GirlBoss Your Way Through Losing Control of the Family Company
by AMY CURRUL and EMILY KLING
Don't Trust Anybody: When shit's falling apart, don't trust anybody. Don't trust your friends, don't trust your mother, don't trust your husband. If you're going to trust anyone, only trust me when I say not to trust anyone. And more!

#CannabisACandy
by WEEKLY HUMORIST HASHTAG GAMES
Russell Stoner, Weedish Fish, Milk Buds, and more #CannabisACandy on this week's trending joke game!

Cartoons by
Nathan Cooper, Nathan Cooper, Vaughan Tomlinson.