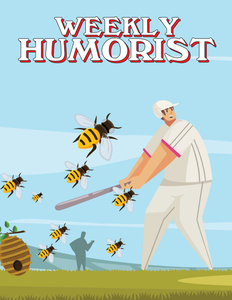 Weekly Humorist Magazine: Issue 226
CONTENTS
Issue 226

Queasyriders Magazine
by KIT LIVELY and PAUL LANDER
Riding My Hog, Sick As A Dog, Food Poisoning Or Real Poisoning; How To Tell If It Was Bad Shrimp Or Your Old Lady's Trying To Kill You, and more in this issue of Queasyriders Magazine!

All the New Rules in Major League Baseball
by BRIAN BOONE
Baseline obstacle accounting. Beehives will be played about every four feet along both the first and third baselines, and the bees will be angry.

Questions That Couples on Love Is Blind Should Ask Next Season for Way More Successful Relationships
by KATE ANTONIADES
How many times do you typically snooze your alarm in the morning? What is the correct pronunciation of GIF? Is Die Hard a Christmas movie? Why or why not? And more!

At the NYT Op-Ed Desk, We Pride Ourselves on a Rich Journalistic Tradition of Publishing Shit That Doesn't Really Matter but Will Make People Mad on Twitter
by BOBBIE ARMSTRONG
We're not in the business of making friends. We're in the business of spitting out half-baked cancel-culture articles with no real merit or backbone that systematically reduce America's trust in journalism institutions.

Every Interview With a 1970s Hollywood Producer
by RYAN UYTDEWILLIGEN
I defiantly left town in 1956 by hopping on a train. It went west to Los Angeles. I walked the streets day and night looking for work, and just my luck, Golden Apple Pictures was in the market for a new elevator boy.

#DogADessert
by WEEKLY HUMORIST HASHTAG GAMES
Barklava, Terriermisu, Hound Cake, and more #DogADessert on this week's trending joke game!

Cartoons by
Lynn Hsu, John Reynolds, Peter Kuper.