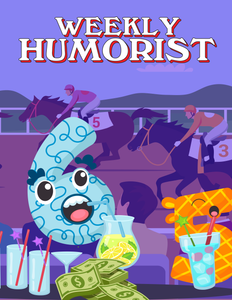 Weekly Humorist Magazine: Issue 228
CONTENTS
Issue 228

We Are Flowers, and We're Here to Melt Your Fucking Face Off
by K.E. FLANN
Are you ready for this, my barren rock garden babies? Can you handle it? Well, then let's go! Shrink your goddamn pupils, mother fuckers -- these savage hues are going to char your cones.

Instructions For You If My Pants Are On Fire
by RYAN KUSHNER
So, my pants are on fire and I've handed you this card. You're probably thinking, "Uhh, say whaaa??" Well, pull yourself together, Gilligan. Every second is critical right now.

The Shocking True Story Of Why 6 Was Afraid Of 7
by ADAM DIETZ
The real reason 6 was afraid of 7 had little to do with 8, 9, 10, or even 11. You see 6 was afraid of 7 because 7 was 6's bookie and 6 got in a little too deep.

The Following Preview Has Been Approved For All Audiences By The Motion Picture Association Of America
by AJ DICOSIMO
THE FILM ADVERTISED HAS BEEN RATED R FOR: PERVASIVE LANGUAGE, TOO MANY PUNS FOR MY LIKING, GRAPHIC IMAGES OF WALLACE SHAWN DOING THE MACARENA AT SOME SORT OF GALA EVENT, and more!

More Obscure Ways Of Bringing Back Luck
by KIT LIVELY
Having your nipples pierced in a construction site porta potty. And more!

#RancidRealityShows
by WEEKLY HUMORIST HASHTAG GAMES
Barf Rescue, Say Yes To The Mess, Outhouse Hunters, and more #RancidRealityShows on this week's trending joke game!

Cartoons by
Tyson Cole, Bob Eckstein, Paul Lander & Dan McConnell.