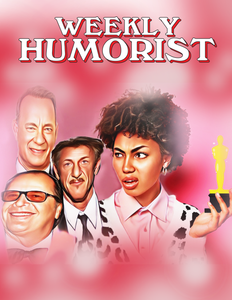 Weekly Humorist Magazine: Issue 229
CONTENTS
Issue 229

Your Psychiatrist's Generalized Anxiety Survey
by MICHAEL BLEICHER & ANDY NEWTON
If you answered "Sometimes," was it to avoid hearing your partner/spouse mention their coworker Paul again and how funny and clever he is?

TV Snide
by KIT LIVELY and PAUL LANDER
'Oh boy! More Streaming Services!? Maybe they could put them all together on one bill, oh wait, we had that and f*cked it up!' 'The Voice: Sorry, Folks, No Good Singers Left' and more in this issue of TV Snide!

Totally True Oscar Facts
by AJ DICOSIMO
Tom Hanks, Sean Penn, and Jack Nicholson are secretly all the same man. Disney's Dumbo is the first NC-17 film to ever be nominated. No one has ever seen The English Patient. And more!

I'm A 9 Year Old Piano Prodigy And Pay No Mind To The Scars All Over My Body
by ROBERT CRISS
I want to thank all of you for making it here tonight. I'm glad you were all able to dodge the falling pianos that I've heard so much about, raining all over innocent people when they go outside for too long or forget to study their sheet music.

Brutally-Honest Petfinder
by LIZ ALTERMAN
Rufus has so much love to give. Our behaviorist jokes that this not-so-bashful toy terrier is battling a Charlie Sheen-level sex addiction

Let's Get High And Go To The Van Gogh Museum
by EMILY KLING
I know I've never done marijuana before, but I hear the weed is different here, stronger, fancier, more European.

#WrestlingRestaurants
by WEEKLY HUMORIST HASHTAG GAMES
International House of Paincakes, Steak n Sheik, Au Bon Pin, and more #WrestlingRestaurants on this week's trending joke game!

Cartoons by
Dan Misdea, Vaughan Tomlinson, Joseph Dottino & Alex Pearson.