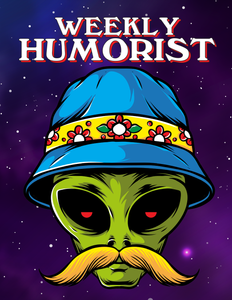 Weekly Humorist Magazine: Issue 230
CONTENTS
Issue 230

What To Expect When You're Expecting Extraterrestrials
by KIT LIVELY
Please, Please Don't Try To Seduce Any Of The Extraterrestrials: Good Lord, do we even have to say this? If history teaches us anything, then the answer is yes, sadly.

How to Be a Woman in Advertising, According to the Men I Work With
by BOBBIE ARMSTRONG and BECKY BRINKERHOFF
Know how to take a joke, but not make a joke. Speak up, but not too much. Be a mom, but not a real mom because that's not hot.

How to Live With an Aggressively Comfortable Couch
by K.E. FLANN
Approach the couch with caution. Do not allow the couch to make initial contact. Go about your business and refrain from reaching down to caress premium chenille or velvet fabrics.

It's The Great Resignation, Charlie Brown: Linus Puts His Two Weeks in at Charlie Brown's Vape Shop
by EMILY KAPP and DANIEL STILLMAN
I finally came to my senses after realizing how grossly underpaid I was when I discussed salaries with Snoopy, who apparently is also on our payroll and makes more than me. He doesn't even come into the shop.

We've Updated Our Preschool's Curriculum to Help Your Toddler Survive the Coming Climate Apocalypse
by KATE CHRISMAN
Connect with Nature: I try to strike a balance between giving your children hope and crushing their cute little souls with the reality of climate change

#RightWingKidShows
by WEEKLY HUMORIST HASHTAG GAMES
The Magic School-Choice Bus, Captain F The Planet, Blue's Coups, and more #RightWingKidShows on this week's trending joke game!

Cartoons by
Michael Shaw, Nathan Cooper, Vaughan Tomlinson.