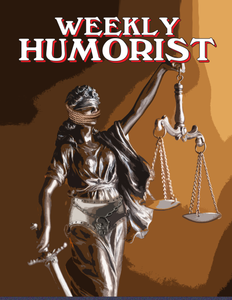 Weekly Humorist Magazine: Issue 234
CONTENTS
Issue 234

Voicemails From My Kombucha Mother (SCOBY) Who I've Neglected In The Back Of The Fridge
by ELIZABETH SIMONE
Hi, me again. I still haven't heard back from you. Need I remind you, young lady, of how you've treated your poor mother? You were so excited to make your own Kombucha. You did it for five weeks until you abruptly quit. This is so like you. First it was ballet, then saxophone lessons, then your MFA program.

Leaking Our Decision To Overturn Roe v. Wade Violates The Supreme Court's Privacy And Government Bodily Autonomy
by MADELINE GOETZ, MCKAYLEY GOURLEY, and KATIE MARAGHY
We wanted to release our ruling on our own terms. We have been denied that choice. How would you like it if your Twitter drafts were posted before you had finished tinkering with them?

So, You're a Scarecrow Looking to Change Professions
by ZACH RAFFIO
You've figured out what role to pursue and are ready to chase it - that's great! What's the first step? Or, in your case, the first "stand completely still"?

Seat Guru for Kids
by BOB ECKSTEIN
Row 18 is full of ancient graffiti. Fascinating reading and you can really learn a lot about the old days. They were very politically active. There is a "Foreigner Rules" scribbled on the seat. I spotted an anti-France message, "Bon Jovi Sucks." And on the top left corner it says, "DEF LEPPARD," written by some animal activist.

Things That Are Easier to Get Than an Abortion in America
by AMY POEPPEL and SARA GOUDARZI
Ripe avocados, A glimpse of Susan Collins' spine, Skinny jeans that fit after 40, and more!

Excerpts from A Book About A Star Wars Jazz Musician Which Sound Way More Perverted Than They Are (Because George Lucas Named Jazz "Jizz")
by JASON GARRAMONE
"No one could have anticipated the splash McCool would create with his jizz."

#StonedSitcoms
by WEEKLY HUMORIST HASHTAG GAMES
Leave It To Reefer, Herb Your Enthusiasm, Parks & Recreational Drugs, and more #StonedSitcoms on this week's trending joke game!

Cartoons by
Dan Misdea, Drew Panckeri, Mat Barton & Adam Cooper.