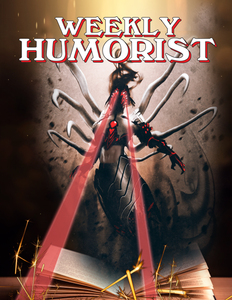 Weekly Humorist Magazine: Issue 235
CONTENTS
Issue 235

Your Luggage is Not Lost; It's on a Journey of its Own Choosing
by NAT HRVATIN
Our company's goal is to help travelers find a comfortable means of getting to where they're headed. Like our commitment to flying you safely and comfortably to your destination, Newark, we are also committed to making sure your bag is where it's meant to be: in Zurich.

Senator Susan Collins Reacts to Other Sidewalk Chalk Art
by KEVIN BURKE, MCKAYLEY GOURLEY, and MADELINE GOETZ
I do not care for the look of this guy. What's all the smirking about? Smells like trouble – and loitering in front of my property on top of that? I don't think so. I want him erased. Or better yet, behind bars.

Renthouse Magazine
by PAUL LANDER and KIT LIVELY
Full Frontal Or Back Door; How To Enter That Rental, Should The Carpets Match The Drapes? (Like design-wise, pervert) and more in Renthouse Magazine.

Michael Bay Punches Up Classic Literature
by AUDREY CLARK
Moby-Dick, by Herman Melville: First of all, love the title. Hilarious. Not everyone can do comedy, but Herman, you got the gift, man. Secondly, there's some great bones in this idea. Crazy guy versus a big ass sea monster? Awesome. I dunno how I feel about it being a white whale, though. How about a giant shark? Or, better yet, some kind of alien robot that shoots lasers out of its eyes. Now we're getting somewhere.

Relax Ladies – I'm Totally Ready to be an Unintended Dad
by MEG REID
I'm totally down to babysit if I accidentally knock you up. Unless it's like the playoffs, or the weekend. Like my ex-girlfriend once told me, behind every woman about to lose her bodily autonomy is a man who doesn't get it, telling her she is overreacting.

#SexySeasonings
by WEEKLY HUMORIST HASHTAG GAMES
Ballspice, MS-G String, Sinnamon, and more #SexySeasonings on this week's trending joke game!

Cartoons by
Catherine Martha Holmes, Len Hawkins, Dan Misdea.