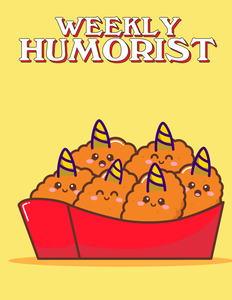 Weekly Humorist Magazine: Issue 236
CONTENTS
Issue 236

Level With Me…How Exactly Is The Multiverse Different From Our Universe?
by KIT LIVELY
No chicken nuggets; instead, unicorn nuggets. There is no Star Trek, but there are still plenty of other reasons why guys can't get laid. And more!

Modern YOLO Alternatives
by ANDY SPAIN
IDAHO POTATO: I'm Distressed About Housing Options and Priced Out of Tons of "Affordable Town" Opportunities.

Paintings of Classical Antiquity That Pay Homage To Breasts
by SONJA RYST
Welcome to the Breastish Museum in London, a Victorian brownstone dedicated to celebrating women, whose fronts have been at the center of the art world for millennia. On our top floor, we pay homage to masterpieces that supported the idea of breasts as the one power women had in classical antiquity.

Yoga Poses To Help You Feel Closer To Death
by ALISSA KING PETERS
Mountain of Regret Pose: While seated, hug knees to your chest and drop your head into your legs, so that your shadow resembles a mountain. Hold it there as a way of drowning out the sounds of all your poor life choices surrounding you.

#ColdCopShows
by WEEKLY HUMORIST HASHTAG GAMES
Thaw and Order, Chill St Blues, Coldlumbo, and more #CopCopShows on this week's trending joke game!

Cartoons by
Teresa Burns Parkhurst, Peter Kuper, Dan McConnell & Paul Lander.