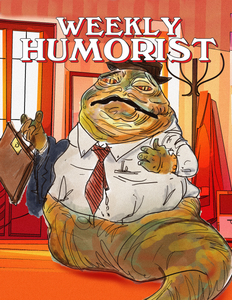 Weekly Humorist Magazine: Issue 249
CONTENTS
Issue 249

Jabba the Husband
by MIKE REISS
"What a day I had. You know that servant girl in the gold bikini? She tried to strangle me! Then three guys and this big dog blew up my floating palace." "Poor baby," said his wife, Jenna the Hutt. She gave him a big wet sloppy goopy stringy kiss on the forehead.

I Miss the Good Old Days When Healthy Relationship Standards Meant Men Doing Whatever They Wanted and Women Shutting the Hell Up
by BOBBIE ARMSTRONG
I know I'm not the problem. The problem is women and algorithms. Women are too complicated, and so are algorithms. Put the two together, and you have a dating puzzle that not even the smartest man (Joe Montana) can solve.

National Enshirer
by PAUL LANDER and KIT LIVELY
Aragorn's Longbow EXPOSED! (NOT Actually Very Long!) Sauron's Role In The Jan 6th Attack! Lord Of The Onion Rings!: Frodo Explains Massive COVID Weight Gain! And more!

Grandma's Quick & Easy Chocolate Chip Cookies and Entire Life
by MADELINE GOETZ and CHELSEA JACOBSON
One Cup Sugar: In 356 BC, my Grandma, ever the socialite, found herself in the company of Alexander The Great – or as she called him, Alexander The Good Enough

StreetEasy Listings From Your Broker, Edgar Allan Poe
by CHLOE SCHNEIDER
With heat and water to mortals given - / But their electricity, without Verizon/ MUST YOU REALLY NEED THAT DOG OR CAT?/ As ample storage a plenty, uncommon as is/ Trade thy Australian Shephard for stainless steel appliances

Historical Tinder
by VAUGHAN TOMLINSON
Frida & Diego: 2 miles away. Poly couple looking for a third. Anti-communists swipe left. And more!

#SickSitcoms
by WEEKLY HUMORIST HASHTAG GAMES
Sneeze Company, Pox and Recreation, Everybody Loves Rabies, and more #SickSitcoms on this week's trending joke game!

Cartoons by
Mat Barton & Adam Cooper, Zack Rhodes, Jim Shoenbill.