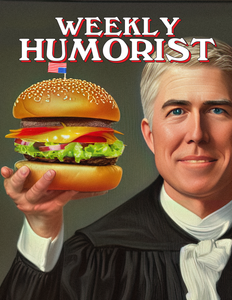 Weekly Humorist Magazine: Issue 250
CONTENTS
Issue 250

The 5 Stages of Grief Automated Voice Message System
by HUNTER GARDNER
If so, say "BARGAINING". You can also say, "I'M STILL ANGRY" or throw your phone out the window. / Bargaining. / Sounds like you're currently in a state of BARGAINING. Would you like to hear about exclusive travel deals from our sponsors?

Summer Barbecue Tips from the Supreme Court of the United States
by COREY PAJKA
Associate Justice Neil Gorsuch: Remember to give thanks to the Lord God Himself! Since separation of church and state is no longer a thing, gather your guests of various faiths, or lack thereof, and lead them in a Christian-centric Grace. If you don't, we'll do it for you!

Meet the Animal Mayors Running, Scampering, and Flying for Reelection in 2022
by MADELINE GOETZ and DANIELLE WILLIAMSON
Aragorn's Longbow EXPOSED! (NOT Actually Very Long!) Sauron's Role In The Jan 6th Attack! Lord Of The Onion Rings!: Frodo Explains Massive COVID Weight Gain! And more!

EXCERPT: The Complete Book of Cat Names (That Your Cat Won't Answer to, Anyway)
by BOB ECKSTEIN
Basically, a baby name book but the babies were replaced by kittens. There are over 100,000 names…with about a 1,000 included in this book. SUCH AS: Cats That Refuse To Use Litter Box: Surprises, U Kitten Me, Scat Cat. Porn Names For Cats: Kitty Kitty Bang Bang. Deep Coat, and more. Makes a purrrfect gift.

REVIEW: The Disastrous Dating Life Of Diane Damone
by KIT LIVELY
The basic rom-com set-up of "woman with a less-than-satisfactory dating history going on a series of romantic misadventures" is given a fresh coat of paint by some very funny writing, and by Brittany Brave herself, who is as funny as she is charming and likable (which is to say, very). Now on streaming!

#CelebADinosaur
by WEEKLY HUMORIST HASHTAG GAMES
Tyrannosaurus Banks, MastaDon Johnson, TriceraZZtops, and more #CelebADinosaur on this week's trending joke game!

Cartoons by
Ron Hauge, Brian Hawes & Seth Roberts, Peter Kuperbill.