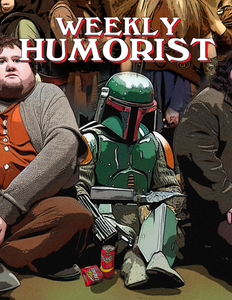 Weekly Humorist Magazine: Issue 253
CONTENTS
Issue 253

At UnitedHealthcare We're Addressing Your Medical Expense Concerns By Ignoring You and Redesigning Our Website
by ANDY SPAIN
Instead of tying up health providers with your selfish medical dilemmas, have you tried typing your symptoms into WebMD and begging your loving God for mercy? Prayers don't cost anything.

Truly Terrible Ways to Make Friends as an Adult
by KIT LIVELY
Sharing a taser while storming a government building. Dressing up as Boba Fett to attend a Lord Of The Rings convention. By attempting to telepathically communicate with others in line at the DMV. And more!

I'm Dorg, The Lowly Servant in Charge of Lighting Every Single Candle at House Targaryen and It's Bullshit That My Scenes Always Get Cut
by TIM CAHILL
Do we really think that the modern viewer is erroneously going to believe that when Rhaenyra walks into an exquisitely candle-lit room to chat with her frenemy Alicent Hightower that all those candles WEREN'T expertly lit by a servant who has ten years of expert candle training under the tutelage of Grand Candle Maester Clarence Candelite?

Thank You For Listening To Our Podcast!
by EVELYN FRICK and MADELINE GOETZ
Thank you for listening to It's All Local Politics in Rural Pennsylvania, as always. I'm Kate Howard, and I'm the lead field research specialist. It's been lovely to share our hot takes and even hotter data with you.

Acceptable Mermaid Skin Tones: A Guide for Racists
by GABRIEL THIBODEAU
*Not a comprehensive guide: mermaids are fictional creatures.

#FoodAFootballTeam
by WEEKLY HUMORIST HASHTAG GAMES
New England Pastries, Baltimore Cravens, Kansas City Beefs, and more #FoodAFootballTeam on this week's trending joke game!

Cartoons by
Mat Barton & Adam Cooper, Lynn Hsu, Zack Rhodes.