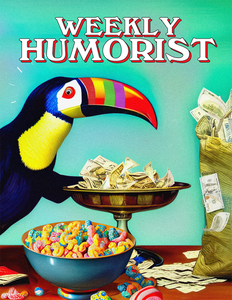 Weekly Humorist Magazine: Issue 254
CONTENTS
Issue 254

Shocking Truths of the Cereal Mascots
by BRIAN BOONE
Toucan Sam hasn't paid his taxes in 30 years. The Raisin Bran sun cyber-bullies his daughter's classmates. Cap'n Crunch only ever took to the sea to avoid a manslaughter charge in Virginia. And more!

COMIC: Captain F#%cked Planet
by D.R. BEITZEL
Captain Planet is looking for a new planet to save, this one is cooked.

BOOK EXCERPT: The Carlyles
by MICHAEL BLEICHER & ANDY NEWTON
Pattie Carlyle wiped a line of sweat from her forehead, brushed her thick, frizzy black hair back over her ears, bent down, and lifted up a large wooden crate from her brownstone's doorstep.....Read the full 1st chapter from the new book THE CARYLYES. Out now!

A Modern Guide To Translating Small Talk
by KIT LIVELY
"Pretty chilly today!" usually means "The army of rabid weasels that I control with my mind can be here before you have a chance to remove me from these premises."

As A Mason Jar, I've Had Enough of These Barn Weddings
by EMILY KAPP and DANIEL STILLMAN
Do you ever feel like you had a specific purpose in life, but then you were called to do something different? And it doesn't feel right?

For Dummies By Dummies
by KATIE BROOKOFF
In each For Dummies By Dummies ® book, we have real, unqualified lay people posing as experts writing to other real, unqualified lay people in a way that is both relatable and completely unreliable. Join us in celebrating some of our newest titles!

#FallFlavorAFilm
by WEEKLY HUMORIST HASHTAG GAMES
Pumpkin Up The Volume, Ice Sage, Fast Times At Ridgemont Chai, and more #FallFlavorAFilm on this week's trending joke game!

Cartoons by
Cerise Zelenetz, Peter Kuper, Tyson Cole.