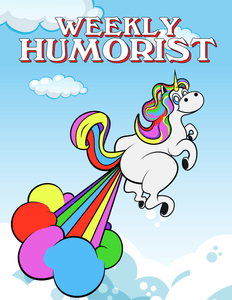 Weekly Humorist Magazine: Issue 255
CONTENTS
Issue 255

The Many Nicknames of William Shakespeare
by ALEX BAIA and ELI BURNSTEIN
Willy Slickspeare, The Merchant of Menace, King Fear, The Dean of PG-13, and more!

The Tax-Hating Hidden Messages Inside Shakira's Music
by TIM CAHILL
My Hips Don't Lie (But I Do, About My Taxes) And more!

Pool Rules for Dan
by MADELINE GOETZ and CHELSEA JACOBSON
No peeing in the pool. No bodily fluids of any kind at any time. So stop getting in the pool after you've had three Coronas, Dan. And keep your snot-nosed kids out of the water too. They scare me. The older one said he knows how I'm going to die.

Just Desserts (Revenge Bakery Menu)
by KIT LIVELY
Key Lyme Disease Pie, Carrot Top Cake, S'ores, and more!

Non-Sexist Things That Bros Come Before
by JASON GARRAMONE
Cloves: Don't even think about prioritizing these dried aromatic buds over your real buds. It doesn't matter if you've watched a YouTube video titled The 8 Surprising Health Benefits of Cloves. Repeat after me: "Bros before cloves!"

#FartyFantasy
by WEEKLY HUMORIST HASHTAG GAMES
Fantastic Beefs, Harry Farter, Suicide Squat, and more #FartyFantasy on this week's trending joke game!

Cartoons by
Vaughan Tomlinson, Drew Panckeri, Lynn Hsu.