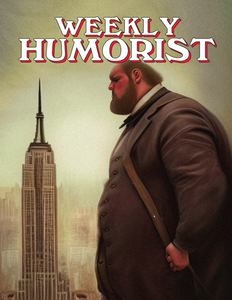 Weekly Humorist Magazine: Issue 256
CONTENTS
Issue 256

The Republican Emperors Hereby Present You With An Opportunity To Become Esteemed Gladiators
by ROCHELLE ELANA FISHER
You aren't pawns in some elaborate game... You are prized gladiator fighters– royalty even! As proof, here's a gift card to McDonald's, and some armor we've crafted out of recycled Diet Coke cans.

Things People Say to Writers Translated
by LIZ ALTERMAN
"You wrote a book! How exciting!" (Oh you poor delusional fool!) "Where do you get your ideas?" (You seem so dull in real life.) "Will I recognize any of the characters?" (Am I in it and can I sue you?)

How to Hold Your Therapist's Attention
by JONATHAN ZELLER
Paint a Pretty Picture: Describe the people in your life as more attractive than they are. A good-looking cast begets a good, listening therapist. Vividly detail stunning features, exotic locales, and witty repartee.

How NFL Teams Got Their Names
by ROBERT CRISS
New York Giants: The team is named after New Yorker Elmer Alvin Doe's masterpiece "The Giant," with the famous line: Quoth the Giant "Nah-vermore."

Lesser-Known Quitting Styles
by JUSTINE COTTER
Tom Brady Quitting: You announce your retirement, spend 40 days at home with three kids, and then announce your comeback.

#HumidHorrorMovies
by WEEKLY HUMORIST HASHTAG GAMES
The Humid Centipede, Sauna of the Dead, Sweat Sematary, and more #HumidHorrorMovies on this week's trending joke game!

Cartoons by
Vaughan Tomlinson, Cerise Zelenetz, Eric Kofman.