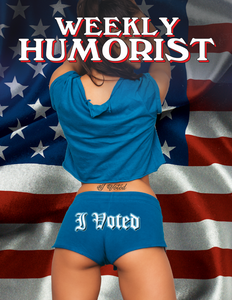 Weekly Humorist Magazine: Issue 261
CONTENTS
Issue 261

Can You Tell Me How to Get, How to Get Away From Cancelled Street? Sesame Street Characters Apology Tour
by KIT LIVELY
Pyramid schemes, missing underpants, Fraggle centipedes, and a big nest on Epstein's island, put these well loved Muppets in hot water.

As the Mechanic Who Changed Your Tires, if the Car Goes 100 Mph I'll Take All the Credit, but if the Wheels Fall Off You Can't Blame Me
by BOBBIE ARMSTRONG
I'm not saying the wheels are going to fly off your car, but I'm also not saying that.

How To Tell People You Voted Other Than An "I Voted" Sticker
by EMILY KAPP and DANIEL STILLMAN
I was awoken from my slumbers by a knock at the door! I leapt out of bed in shock! A knock at the door at this hour? But - I looked at the floorboards, surveyed my room, sniffed the air. What had I to fear? I had carried it all off so perfectly.

I'm Bombarding You With Texts Before Election Day So You'll Definitely Vote for Me
by ROCHELLE ELANA FISHER
9:33 AM —If you want to opt out of these messages reply "STOP" and I'll continue sending them to you.

I'm the Cologuard Box, and I Can Diagnose your Personality Disorder
by LAURA GADDIS
Who takes a cute little box with a face and limbs and rips him open to insert poop? I'll tell you who–people with problems.

#CowAComicBook
by WEEKLY HUMORIST HASHTAG GAMES
Dairydevil, Moo Knight, Aquamanure, and more #CowAComicBook on this week's trending joke game!

Cartoons by
Nick Downes, Peter Kuper, Lance Hansen & Rebecca Clifton.