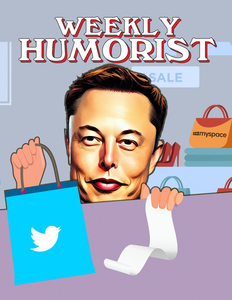 Weekly Humorist Magazine: Issue 262
CONTENTS
Issue 262

Our Family Faces Many Challenges Inside This Closed Garage
by JONATHAN BINES
OK, honey, we get it. You're saying that the issue of the rising CO1 levels in our closed garage is very important to you. And we appreciate that you're passionate about it. Try to remember that everyone in this minivan has issues that we care about and think are very important.

Twitter.com's Exchanges & Returns
by JULIEN PEREZ
What to Know Before You Buy: Log onto Twitter and ask yourself, "Do I want this?" I mean it. Open Twitter and actually say out loud, "Do I want to be the owner of this nightmare?"

New Proposed National Holidays
by CONNOR ADAMS
National Amelia Earhart Day: A day where we can all just disappear and not have to do anything, a great tribute! Everyone could use a break.

Fight Or Flight Or Flex
by ROBERT CRISS
You're walking along and you see a house engulfed in flames. Fight: You immediately run into the house and rescue the family trapped inside. Flight: You get out of the way, giving firefighters space to rescue the family trapped inside. Flex: You rip your shirt off and flex really hard at the house fire with the family trapped inside.

Things Not To Ask Your Doctor About
by ERNIO HERNANDEZ
P.E. ( Pasta Elbow) P.A.B ( Passive Aggressive Breathing while sleeping) and more things to not ask your doctor about.

#AchyActionMovies
by WEEKLY HUMORIST HASHTAG GAMES
The Sore Identity, Robotusssin Cop, The Last Traction Hero, and more #AchyActionMovies on this week's trending joke game!

Cartoons by
Ivan Ehlers & Kit Lively, Steve Daugherty, Alex John.