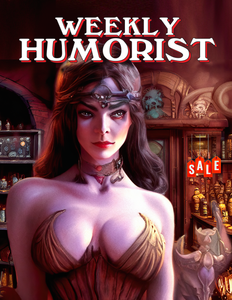 Weekly Humorist Magazine: Issue 263
CONTENTS
Issue 263

Black Magic Friday's Best Deals, Steals & Spells!!!
by KIT LIVELY
Sell your soul before 12/31/22 and receive a free glow-in-the-dark Mariah Carey fanny pack. All inverted cross actually prepared as inverted, and not just normal crosses that we turned upside down. And more!

Get Ready for the Biggest International Party Where None of Your Favorite Ways to Celebrate Are Legal
by ALEX COWELL
Hello football lovers and partygoers from all over the world! We're so excited to welcome you to Qatar for the 2022 FIFA World Cup, the biggest party on the planet. Who's ready to cheer their hearts out?! Woooo! But not so loud please. Public displays of fun will definitely land you in a jail cell, as will the many other ways you typically like to party.

"Don't Smile Until Thanksgiving" and Other Tips for New Teachers
by SARAH GARFINKEL
To earn your kindergarten students' respect, start the year off strict and smile-free. Your students might test your anti-smiling resolve prior to Thanksgiving by saying cute things like, "You're my best fwend" or "I wuv you." Do not break.

9 Classic Cocktails for Dreaded Family Gatherings
by TRACY MCARDLE BRADY
Old Fashioned Passive Aggressive Barb: Served by your mother-in-law, this multi-layered concoction includes everything from your parenting choices to the fact you use avocado based mayonnaise and returned a shower gift nine years ago.

The Final Diary Entries From the Turkey That The President Did Not Pardon
by EMILY KAPP and DANIEL STILLMAN
Just as I begin to feel at peace with my impending death, I think about the turkey that the president is pardoning tomorrow. It isn't fair. I don't even know who it is yet, but it isn't fair. If it's Marvin and his ball sack-looking ass neck I'm gonna scream.

#HorribleHolidaySides
by WEEKLY HUMORIST HASHTAG GAMES
Pornbread, Sweat Potatoes, Pee-can Pie, and more #HorribleHolidaySides on this week's trending joke game!

Cartoons by
Brandon Hicks, Tyson Cole, Bob Eckstein.