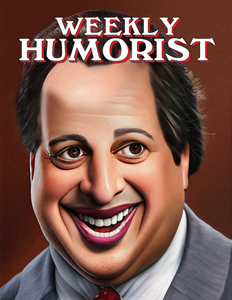 Weekly Humorist Magazine: Issue 272
CONTENTS
Issue 272

Life Recipes for Late Twentysomethings
by JUSTIN KAPLAN and MIKE BREGER
Day-Long Hangover: Wake up cold, confused, and filled with regret. Leave ample time to rise. Add water consistently–too much at once will oversaturate.

Sex With Me, Sponsored By Brooklinen
by MADELINE GOETZ and JACK SENTELL
Wow, that was great! You know what they say about seven minutes in heaven: you can do it in four. Let me just throw this condom away. And speaking of away, Away Luggage is quickly becoming the most trusted suitcase brand for young professionals on the go!

News Briefs: Lost Dog Found At Home Of Nicer Family
by KIT LIVELY and WEEKLY HUMORIST NEWS BRIEFS
Plus: Stupid Lemonade Stand Doesn't Have Wi-Fi, Cabbage Enthusiasts Flip The Fuck Out Over National Cabbage Day, Mom Excited About Knowing Mother Of Hostess At Chili's.

This Year, I Did Something Special for Your Birthday
by CHRIS MANSON
I made a documentary about you with your family and friends. Oh, the documentary turned out so well that Netflix acquired the streaming rights.

Quiz: Jon Lovitz as SNL character Tommy Flannigan or Congressman George Santos
by PAUL LANDER
Married to Morgan Fairchild, Played Third Base for KC Royals in the World Series, Star of Baruch College volleyball team, President of Pathological Liars Association. And more!

#FartyDatingApps
by WEEKLY HUMORIST HASHTAG GAMES
Crappn, Farters Only, EwwwHarmony, and more #FartyDatingApps on this week's trending joke game!

Cartoons by
Vaughan Tomlinson, Steve Daugherty, Frega DiPerri.