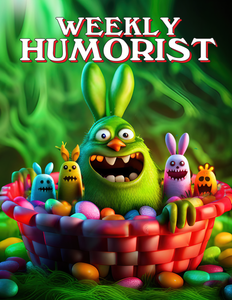 Weekly Humorist Magazine: Issue 282
CONTENTS
Issue 282

Star Wars Bounty Hunter or Traditional Passover Food
by LEWIS HELFAND
Zuckuss? Tzimmes? Hazeret? Just try not to dip your Din Djarin in the salt water.

Late Night TV Hosts React to The Crucifixion of Jesus Christ
by JULIEN PEREZ
The Tonight Show with Jimmy Fallon: "You guys hear about this? A man named Jesus was killed today for claiming to be the son of God. Yeah. Awful. When asked for comment, God pointed and said, 'Look, a dinosaur!' And ran away."

Truly Terrible Things About Trump Arraignment
by KIT LIVELY
Keeps saying the courtroom artist is totally failing because they aren't using 'good orange' and he looks too 'creamsicle'. Won't answer any questions until he's placed on higher seat than the judge. And more!

10 Rules For Kid Rock Concert Goers So He Doesn't Get Triggered And Refuse To Play
by PAUL LANDER and EDDIE FELDMANN
Do not seat any fans in rows LGBT or Q.

April Fools Day Pranks For Fancy Boys
by EMILY KAPP and DANIEL STILLMAN
Switch the Soup Spoon and Main Course Spoon At Supper: Mother didn't dish out thousands of pounds for eight years to a private etiquette coach for nothing!

#EerieEasterCandies
by WEEKLY HUMORIST HASHTAG GAMES
Cadbury Scream Egg, Marshmallow Creeps, Jelly Fiends, and more #EerieEasterCandies on this week's trending joke game!

Cartoons by
Sarah Morrissette, David Ostow, Peter Kuper, Chris Gural, Michael Shaw.