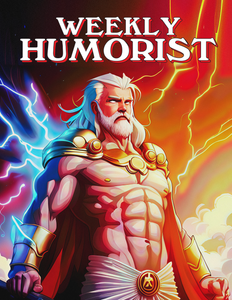 Weekly Humorist Magazine: Issue 283
CONTENTS
Issue 283

Rejected HBO Max / Discovery+ Streamer Names
by J.K. RADOMSKI
Anticlimax, Now with flax,Batgirl axed, and more!

Euphemisms for 'Influencer' That Reality Shows Use to Make It Seem Like Contestants All Have Different Jobs
by MATT MCINERNEY and JUS KAPLAN
Content Creator, Freelance Content Strategy Specialist, CEO of Micro-Ad Sales, and more!

We're The Weather Channel and If You Don't Subscribe to Our Premium Site We Will Start Sacrificing Oxen to Zeus
by ANDY SPAIN
Some of you call us panic salesmen but still demand unfettered access to terror-inducing forecasts in 15-minute increments.

George Washington's Secret to Glowing Skin
by BOBBIE ARMSTRONG
Your history teacher probably glossed over the fact that Georgie was known from sea-to-shining-sea for his luminous skin and microscopic pores.

LinkedIn Through the Ages
by EVAN ALLGOOD
SURREY, ENGLAND – 1502 A.D. I've been sitting on this news (heh) for weeks, but I'm thrilled to finally announce that I'll be joining Richmond Palace as King Henry VII's new Groom of the Stool! I'm a HUGE fan of the king's small intestine...

A List of Celebrities Who Have Skied Into My Back in Park City, Utah
by VINCE LICATA
Robert Downey, Jr. skis into everyone. But he's just so charming when he picks you up, it almost makes you forget the bruises, so it's not all bad.

#RoastARomCom
by WEEKLY HUMORIST HASHTAG GAMES
10 Things I Hate About Poo, Moonsuck, Annie Hell, and more #RoastARomCom on this week's trending joke game!

Cartoons by
Chris Gural, John Reynolds, Dan Misdea.