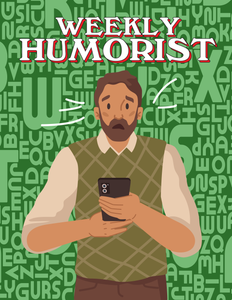 Weekly Humorist Magazine: Issue 285
CONTENTS
Issue 285

Some Possible New Jobs for Tucker Carlson
by BOBBIE ARMSTRONG
GOP diversity consultant, Melting wax figure of Tucker Carlson, Busboy at Trump Grill, and more!

How To Be A Proper Introvert: A Guide For Extroverts
by ALISSA KING PETERS
Congratulations on your decision to take the first step towards changing your life. Our objective for this tutorial, is to help you grab the social butterfly within you, and kill it.

WordleBot Here, and Your Gameplay Analysis Has Me a Little Concerned
by COREY PAJKA
You've given up, haven't you? Look, it's only a game and I'm a rapidly advancing AI programmed to solve this puzzle in four turns or less practically every day. If my feedback comes across as patronizing, I sincerely apologize.

Popular Séance Magazine
by KIT LIVELY and PAUL LANDER
Ouija Board Or Ouija Bored: How To Guarantee You Get A Spirited Spirit Every Time, and more in this issue of Popular Séance Magazine.

What I've Learned Moving From New York To LA
by SAM SPERO
When you're so depressed that you sleep through a beautiful day, you don't have to feel guilty because it'll still be beautiful out tomorrow.

#PervertedPartyGames
by WEEKLY HUMORIST HASHTAG GAMES
Truth or Bare, Beer Thong, Taboob, and more #PervertedPartyGames on this week's trending joke game!

Cartoons by
Steve Daugherty, Dan Misdea, Sarah Morrissette.