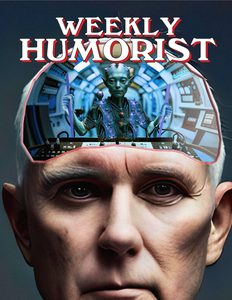 Weekly Humorist Magazine: Issue 290
CONTENTS
Issue 290

Op-Ed: I'm the Alien Controlling Mike Pence from Inside His Skull–Farewell, Earth
by AVERY BARGAR
I understand the grief many of you might feel now that you know the truth about Michael. Some of you loved him. Others despised him. But please, accept this: there is no "Mike Pence." Michael was never real...

If Famous Crime Movies Revolved Around Kohl's Cash
by KATY MAIOLATESI
Point Break: FBI rookie Johnny Utah is tasked with catching a group of masked thieves who rob Kohl's cashiers at gunpoint for all the Kohl's Cash in their drawers, plus some checkout line chocolate.

Playlist: Classic Songs Updated For Privileged White Men
by JUS KAPLAN and JACK STEBBINS
You've Got A Friend (That Could Refer Me At McKinsey, Right?) Originally by James Taylor And more!

Short Attention Span Musical Theater
by PAUL LANDER
Annie Get Your Gun Annie: I can do anything you can do better Boyfriend: Yes, you can. Yes, you can. Yes, you can. Curtain

An Open Letter To Those Who Declined My Facebook Event Invite
by WARREN BENEDETTO
It is with great disappointment that I write to you today, the day after our Ninth Annual Footie Pajama Game Of Thrones Bar Crawl. The turnout, as you can imagine, was incredible.

#CrudeCartoons
by WEEKLY HUMORIST HASHTAG GAMES
XXX-Men, BoJack-Off Horseman, Screwby Doo, and more #CrudeCartoons on this week's trending joke game!

Cartoons by
Vaughan Tomlinson, Peter Kuper, Kit Lively and David DeGrand.