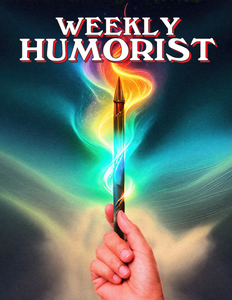 Weekly Humorist Magazine: Issue 298
CONTENTS
Issue 298

Rejected Expressions to Say 'It's So Hot'
by by MORGAN PARKER, PAUL LANDER, KIT LIVELY, BRIAN BOONE, and ANDY NEWTON
It's so hot my weed smoked itself. It's so hot farmers are harvesting corn already popped. It's so hot my soup gave me brain freeze. And more!

The Mayor Doesn't Have a Magic Wand…
by CRAIG THOMAS
PRESS SECRETARY: "Let me be clear. The Mayor did not 'lose' the wand. It is blatantly obvious that City Councilman Teddy Bilson—who plans to run against the Mayor next year—stole it."

What Your Therapist's Couch Says About Them
by ANGUS DUFFIN
Armchair: A regular therapist. Chaise lounge: A regular therapist, who takes naps between clients. High chair: A therapist who specializes in child developmental therapy and clients of all ages who throw their food.

Other New Florida State Board of Education Guidelines
by CARA MARINO
World War I: Not necessary to teach - too boring. World War II: Describe how even broads can find a place in society once learning a marketable skill. Catholic Church sexual abuse cases: Never happened. And more!

Benjamin Moore Paint Palettes Used In The Making Of The Over-The-Top Barbie Movie
by ROCHELLE ELANA FISHER
Dream Colors for Climate Change: There's no camouflaging our burning planet. So might as well use paint colors that can be seen miles away in outer space. Maybe in a perfect world we'll be rescued by a fleet of alien dolls.

#SnottySnacks
by WEEKLY HUMORIST HASHTAG GAMES
Snoreos, Sneezecake, Snot Pockets, and more #SnottySnacks on this week's trending joke game!

Cartoons by
Bob Eckstein, Ivan Ehlers, Martha Holmes.