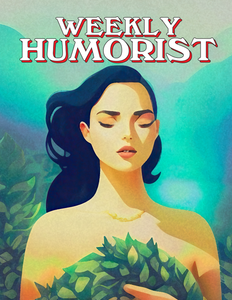 Weekly Humorist Magazine: Issue 299
CONTENTS
Issue 299

Amenities at the Anti-Patriarchy Day Spa
by JULIE KLING
Upon giving enthusiastic consent to be gently mummified in a mineral-rich algae wrap, you'll receive a steady stream of affirmations reflecting your inherent human value...

All These Ballplayers Spontaneously Bursting Into Flames Is Killing Baseball
by ALEX COWELL
Answer me this, MLB. How are fans supposed to enjoy a day out at the ballpark while constantly on edge that their favorite players could at any point start smoldering and catch fire?

No, I'm Not Prepared To Tell You How I'd Like My Hair Cut
by ADAM DIETZ
Can you fundamentally change my personality and overall lot in life with this haircut, Dave? Because if so, let's do it.

Famous Movie Lines Had They Used A.I.s
by THOMAS WYKES
The Godfather, Star Wars, Terminator, and more really lose their zippy taglines in this illustrated list.

We'd Be Happy to Help You Unsubscribe From Future Emails!
by SARAH HASS
We would like to make you confirm with the vernacular of a petulant child by clicking the "I don't care, unsubscribe me anyway" button. And is that tone really the kind of person you want to be?

#SoreCereals
by WEEKLY HUMORIST HASHTAG GAMES
Cinnamon Toast Punch, Frosted Aches, Scream of Wheat, and more #SoreCereals on this week's trending joke game!

Cartoons by
Lars Kenseth, Fergus Boylan, Mat Barton & Adam Cooper.