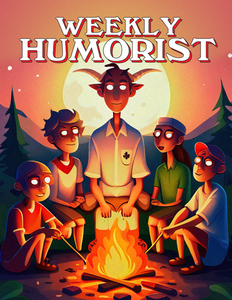 Weekly Humorist Magazine: Issue 300
CONTENTS
Issue 300

Signs That Your Summer Camp Is Actually a Religious Cult
by KIT LIVELY
Campfires used for roasting marshmallows and hot dogs, as well as destroying virgin sacrifice remains.

Neighborhood Highlights, According to My Dog
by J. TAYLOR LEE
Fence With Dog: This is where my friend Fat Dog lives. This is a great place if you are looking to socialize. And while you are here, be sure to take some big honkin' snorffs of the billowing waves of his piss steam coming through the fence.

Thanks For Cooking, I'll Do The Dishes
by JASON GARRAMONE
Don't worry about germs, the hot water will kill most of the bacteria. No hot water at the cottage? No problem-o, the dish soap will do the heavy lifting. Salmonella? Come on, everyone knows you can only get that from salmon.

Classy Alternatives for When Your Extra Virgin Olive Oil Isn't Extra Enough
by GREG LANDGRAF
Cauliflower oil: Cauliflower can do anything! Use it to replace rice, mashed potatoes, macaroni and cheese, or even pizza dough. Cauliflower oil is just as good for frying, and when you use it, you feel like Gwyneth Paltrow.

How Dare You Haters Criticize My Hit Country Song, "Trump Will Kick Your Sorry Woke Asses."
by ANDY SCHOCKET
But "Trump Will Kick Your Sorry Woke Asses" is in no way a political song, or anti-anything or anyone. It's a song about building community, symbolized by the life of a fictional character, who I happen to name "Donald Trump," who lives in a small town called "Mar-a-Lago,"...

#FesteringFastFood
by WEEKLY HUMORIST HASHTAG GAMES
Blight Castle, In-n-Gout Burger, Jack In The Pox, and more #FesteringFastFood on this week's trending joke game!

Cartoons by
Thomas Wykes, Peter Kuper, Alan Rozanski.