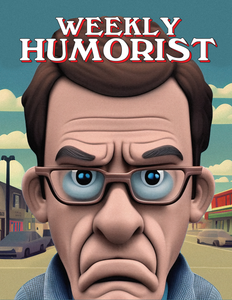 Weekly Humorist Magazine: Issue 302
CONTENTS
Issue 302

A Peek Inside a College Parent Facebook Page
by LIZ ALTERMAN
Veronique has only been on campus for 36 minutes, but she's horribly homesick. Can one of you send your extroverted student to visit her please? (Ideally, this should be someone with a high tolerance for crying.)

Lustler Magazine
by KIT LIVELY and PAUL LANDER
Chick on Chick-fil-A: Porn Hub & Grub Hub Join Forces! VR vs AR: Can anything finally make you feel something? Anything? Let's Hear It For 69! (The Average Age Of Our Readers) and more in this issue of Lustler Magazine!

This City Has Really Gone Downhill
by ADAM DIETZ
This city has way too many tourists coming throughout the year. And with each tourist, comes a wad of cash they are looking to spend in this city. We get it, you're rich! You don't have to show the rest of us up.

I'm the Republican Who's Going to Beat Donald Trump and- Oh No I Just Shit My Pants
by MIKE JUNGMAN
This country desperately needs Trumpism without Trump. And I am not Trump. No, I'm- shitting my pants again! Oh no! Hnnnn! Hnnnnnnnnnnnn! Ew, my pants are full of shit! Why is this happening? I'm just trying to say and do everything Donald Trump would while looking and sounding more Presidential! Hhhnn! Oh God I'm shitting more- Hhhhhhhnnnnnnn! The shit's coming out of the bottom of my pants now!

Album Names For Your Dad's Bluegrass Cover Band
by CALEB COY
Dixie With Myself, Dark Side of the Moonshine, Wish You Were Deer, and more!

Ten Reasons Why I Still Plan to Consume Alcohol Next Weekend Despite Being on Anti-Inflammatory Medication
by WES JANSON
Some sources on the internet claim that binge drinking may drastically increase the potency of this medicine. That's a good thing, right? That means my shoulder should heal faster if I enjoy a few glasses of whiskey.

#HighHeroes
by WEEKLY HUMORIST HASHTAG GAMES
The X-tacy Men, The Stoned Ranger, James Bong, and more #HighHeroes on this week's trending joke game!

Cartoons by
Brandon Hicks, Michael Litwak, Mat Barton & Adam Cooper, Drew Panckeri.