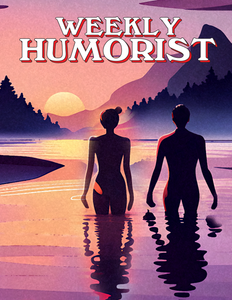 Weekly Humorist Magazine: Issue 303
CONTENTS
Issue 303

SAG-AFTRA Answers FAQs About Labor Day Celebrations During the Strike
by ROCHELLE ELANA FISHER
Can I jump over a blazing hot fire pit? Performing stunts are not permitted either. Also, it's not a good idea to risk burning bridges or your face. If acting ever becomes a thing again, you'll need our organization and also, good headshots.

Pretty Basic Skinny Dip Tips
by KIT LIVELY
If you have a really great body, allow others with less-great bodies a few minutes to frolic in the water before making your entrance. And more!

Jesse Watters' Unblemished Record of Heterosexuality
by MEG REID
Age 16: Lost virginity to high school girlfriend Jane Doe, a real girl who went to my high school but has since changed her last name, her first name, and all distinguishing physical characteristics so no one can ever look her up.

Internal Memo From Producers Re: Fall 2023 TV/Film Schedule
by SUSAN SHAPIRO
Dancing with the Dead Stars: AI-generated dancers Fred Astaire and Ginger Rogers vie against Gene Kelly and Judy Garland, as well as Patrick Swayze and Josephine Baker, for an intergenerational ballroom dancing competition...

Depressing Karaoke Night
by DAN FIORELLA
HOST: Oh, you came. Welcome to Depressing Karaoke Night. If you're not bummed yet, you totally will be.

#RottenRobots
by WEEKLY HUMORIST HASHTAG GAMES
ReVoltron, Optimus Slime, R2D-Poo, and more #RottonRobots on this week's trending joke game!

Cartoons by
Sarah Morrissette, Fergus Boylan, Paul Lander & Dan McConnell.