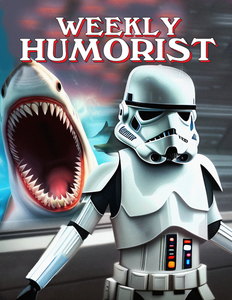 Weekly Humorist Magazine: Issue 305
CONTENTS
Issue 305

An Influencer Reviews the Cardiologist
by CLAIRE TADOKORO
Keep in mind, this place is as exclusive as Soho House when it was cool, so forget about a walk-in. You'll schedule with the office concierge, and it may take months to get off the waitlist.

Trumper Stickers (Bumper Stickers Commonly Found On The Trucks Of Trump Voters)
by KIT LIVELY
"No Fat Chicks, Fat Presidents Are Okay" "Baby With Tattoos On Board" "If The Van Is A'Rockin', Automated Weapons We're A'Glockin'" and more!

Hollywood Memo: I.P. Daily
by DAN FIORELLA
Star Jaws: An intergalactic space shark threatens the Republic of Planets and a scrappy band of rebels are called in to destroy it.

'Wake Them Up at 2 AM,' and Other Hacks to Get Your Kids Ready for School
by STEFANIA PALLOTTA AND RYAN LYNCH
Pack food the night before. Put shoes on in the car. For an on-the-go breakfast, freeze milk, a spoon, and cereal into something you'll call "morning popsies" until they move out.

Ten Sure-Bet Reality Shows Canceled After Initial Approval
by ANDY SCHOCKET
Big Mother- Pitch: Cameras installed in the basements of 15 live-at-home male Gen Zers; the mother of the one who moves out first wins $100,000. Reason for cancellation: After six months of filming, the only activities captured on film were eating DoorDash-ed Taco Bell, video gaming, and masturbating to screenshots of Elon Musk.

#FallAFootballTeam
by WEEKLY HUMORIST HASHTAG GAMES
San Francisco 49°, Minnesota Hikings, Los Angeles Yams, and more #FallAFootballTeam on this week's trending joke game!

Cartoons by
Sarah Morrissette, Bob Eckstein, Tim Oliphant.