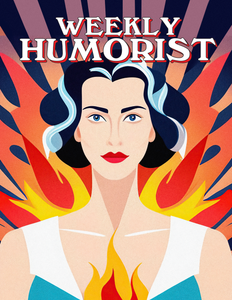 Weekly Humorist Magazine: Issue 309
CONTENTS
Issue 309

The Parents' Music Resource Center Returns with an Urgent Message: Beware of Billy Corgan This Halloween and Protect Your Pumpkins!
by WILLIAM VAILLANCOURT
As we outfit our homes and yards with spooky—yet tasteful!—decorations, we encourage everyone to keep an eye out for any funny business.

Are You Living Through Menopause Or The Climate Crisis?
by MEG REID
Denying it just makes it worse. It's happening much faster than you thought it would. Air conditioning is only a temporary solution. And more!

Acceptable Ways To Pronounce "Entrepreneuer"
by CALEB COY
Under Purr Knower, Entree Panera, Intruder Prawner, and more!

You're Probably Wondering Why There's an Empty Pizza Box in My Trunk
by CHASON GORDON
I can see that you're wondering why there's an empty pizza box in my trunk. That's perfectly fair. A dead body would have been easier to justify.

QUIZ: ALF or MILF?
by KIT LIVELY
Rife with a host of odd fungi and parasitic insects that are seemingly not of this world. And more!

#GhastlyGroceries
by WEEKLY HUMORIST HASHTAG GAMES
Poultrygeist, Skin Milk, Gravey, and more #GhastlyGroceries on this week's trending joke game!

Cartoons by
Thomas Wykes, Vaughan Tomlinson, Ken Levine.