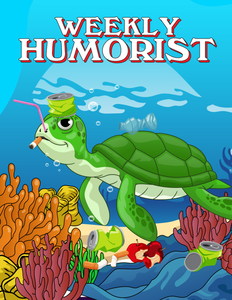 Weekly Humorist Magazine: Issue 232
CONTENTS
Issue 232

A Sea Turtle With a Plastic Straw Stuck Up Its Nose Has Some Thoughts on Recycling
by ALEJANDRA TIMMINS and MADELINE GOETZ
And when you're not dumping your plastic straws into my goddamn living room, you're playing spin the bottle with the global thermostat. I mean, what's going on? One day it's burning up the next day it's snowing in Texas.

This Earth Day, Help Save The Planet By Purchasing Our 'I Love The Earth' Synthetic T-Shirt
by EMILY KLING
This year, our tie-dye I Love The Earth t-shirt features a smiling earth with a playful wink. You'll notice that this is very different from last year's I Love The Earth tie-dye t-shirt, which showed a smiling earth with both eyes closed. Let everyone know you care about sustainability, without getting caught wearing last year's style!

Coachella Act or TV Sitcom Catchphrase
by PAUL LANDER
Still Woozy, Bang, zoom, to the moon, Alice, Kiss My Grits, and more!

Post Pandemic Party Planning!
by KIT LIVELY
Now that things are moving slowly back toward somewhat normal, you can toss your guests' coats onto your bed, rather than onto your back lawn before setting them all on fire.


#RandyCandy
by WEEKLY HUMORIST HASHTAG GAMES
Reese's C-Cups, Mike and Ike and Suzy, The Poly Rancher, and more #RandyCandy on this week's trending joke game!

Cartoons by
Hilary Allison, Peter Kuper, Bob Eckstein.