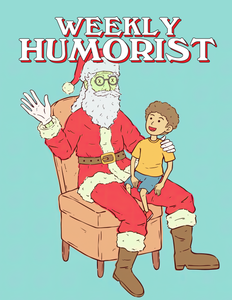 Weekly Humorist Magazine: Issue 266
CONTENTS
Issue 266


Power Ranking The Best and Worst Mall Santa Laps For My Children
by EMILY KAPP and DANIEL STILLMAN
#3 McKinley Mall: There was something off about this mall Santa but I couldn't put my finger on it. So I placed my two cheeks on his lifeless lap and from that second I knew: this mall Santa was dead.

A Senator's Holiday Gift Guide For His Secret Girlfriend
by BOBBIE ARMSTRONG and MADELINE GOETZ
Following her back on Instagram from your official government account. Breaking it off with your second slightly more secret girlfriend. And more!

We At HBOMax Have Decided To Cancel Earth
by AMY CURRUL
And like all of our cancelled programs, Earth will be wiped off of all platforms, anything where its existence could be recorded or remembered.

Financial Terms, According To My Teenager
by LYNN HSU
Gross Margin: Penis doodles along the edges of your Great Expectations book. Margin Call: The phone call your parent receives after the teacher spots your Gross Margin. And more!

The Secrets Behind Your Favorite Movie SFX
by ALEX GRIFFITHS
The cats in "Cats": Without a doubt, the greatest ordeal of my whole career. They always say to never work with children, animals or Dame Judi Dench, and I wish to God I had listened.

#CrappyChristmasCarols
by WEEKLY HUMORIST HASHTAG GAMES
All I want for Christmas is Poo, Doo you hear what I hear?, Jingle Smells, and more #CrappyChristmasCarols on this week's trending joke game!

Cartoons by
Mat Barton & Adam Cooper, Zack Rhodes, Alex John.