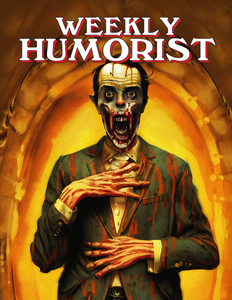 Weekly Humorist Magazine: Issue 270
CONTENTS
Issue 270

Letter of Apology from George Santos
by BEN BYNUM
"Fool me once, shame on you; fool me twice, shame on Billy Joel." "Is it better to have Joeled and lost than never to have Joeled at all?" "Close, but no Billy Joel." And more!

Plateboy Magazine
by KIT LIVELY and PAUL LANDER
Coleslaw In The Raw, Open Wide for Open Faced Sandwiches, Grub Hubba Hubba! And more in this issue of Plateboy Magazine!

Every Human on Earth Looks at Least 30% More Attractive in a Blazer
by ALANNA WEISSMAN
Try picturing every one of your exes. Now, picture them wearing blazers. If you're still not convinced, repeat the experiment, but replace your exes with your least favorite politicians, or the zombies from The Walking Dead...

Notable Author Cameos in the Film Adaptations of Their Books
by BRIAN BOONE
'Misery', 'Pet Semetary', 'Christine', 'The Running Man', 'The Shawshank Redemption'...In every adaptation of one of his books, Stephen King's smiling face is visible in the lower left corner of the screen at all times.

Welcome to the Many Seasons of TJ Maxx!
by ANNE SKOVE
February: love is in the air. It's also in your kitchen, bathroom, and foyer. March: more leprechauns than you will ever need. April: same as March, only with rabbits. And more!

#DrunkSitcoms
by WEEKLY HUMORIST HASHTAG GAMES
Brooklyn Wine Wine, S*M*A*S*H*E*D, According to Gin, and more #DrunkSitcoms on this week's trending joke game!

Cartoons by
Zack Rhodes, John Reynolds, Nathan Cooper.