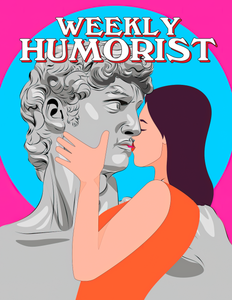 Weekly Humorist Magazine: Issue 294
CONTENTS
Issue 294

5 Summer Activities That Make Me Think You Might Be AI Generated
by MORGAN PARKER
Now I know fun is subjective and there are many ways to indulge. I don't judge! But, personally, there are some activities I believe to be so generic and dumb that only a computer could come up with it.

Please Do Not Show My Child Michelangelo's David for I Wish to Bang It
by CHELSEA JACOBSON
A piece that stirs such sinful thoughts could never be considered art.

News Briefs: Middle Aged Eagle Scout Top Recruitment Pick For Local Area Cults
by KIT LIVELY and DON HOLLEY
Plus: Exhaustive Study Reveals Slip-In Shoes Greatest Achievement Of New Millenium, Kitchen Junk Drawer Officially Too Full To Open, Man With Dad Bod Isn't Even Really A Dad.

An Actual Conversation About That Episode
by GARY M. ALMETER
Me: Oh. My. God. Did you see that episode? Other Person: See it? I feel like I lived it. That episode shall dwell inside of me for eternity. Like an indestructible tapeworm. Me: You're lucky. That episode gutted me like a fish.

A Press Conference Following My Dinner At Applebees
by ADAM DIETZ
Why did you go to dinner at Applebee's? That's something I kept asking myself during the dinner itself. I suppose the easiest answer is guilt.

I've Tried So Hard to Be a Responsible Dog Owner and Yet Somehow I've Still Raised an Inconsiderate, Hedonistic Pie Thief
by GREGORY VIRGIN
Oh great, you're throwing up the pie now. And here comes the parchment paper. See this is what I'm talking about.

#SoggySciFi
by WEEKLY HUMORIST HASHTAG GAMES
Dewbacca, District Brine, Moist Max, and more #SoggySciFi on this week's trending joke game!

Cartoons by
Peter Kuper, Drew Panckeri, Rose Anne Prevec.