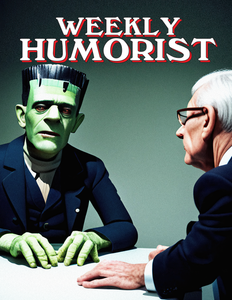 Weekly Humorist Magazine: Issue 310
CONTENTS
Issue 310

Ouija Board Do's And Don'ts
by KIT LIVELY
DONT use your Ouija as a cheese board during a supernatural-themed dinner party. DO allow ghosts to reach out for friendship by providing you with your neighbor's Wi-Fi password. And more!

Lame Late Night Horror Shows
by DAN FIORELLA
"Frankenstein Meets the Press"- We get the monster's views on bread and fire.

Scent Memories From the Last Time I Went Camping
by CARLY GIBSON
Description: We watch as our family car is engulfed in flames. Someone at another campsite yells, "call 9-1-1!" Dad looks at me and my little sister for the first time since we arrived and says, "Your mother and I are getting a divorce." Top Notes: Gasoline

Gotham City's Ladies' Charitable Auxiliary Wishes to Apologize
by JAMES MARINO
We are sorry that Poison Ivy saw fit to disrupt our annual orchid show once again. The Gotham City Ladies' Charitable Auxiliary refuses to let scantily-clad eco-terrorists win.

Sorry, Kid, No Handouts – Here's How You Can Earn Your Halloween Candy
by EMILY KAPP and DANIEL STILLMAN
Pay Up: Want to get things done like a real adult? Pay your hard-earned tooth fairy money and bribe me. Cigarettes, hooch, allowance money and you'll get all the candy in the world.

#ScarySandwiches
by WEEKLY HUMORIST HASHTAG GAMES
Scorned Beef, Killed Cheese, Peanut Butter and Belly, and more #ScarySandwiches on this week's trending joke game!

Cartoons by
Steve Daugherty, David Ostow, Mat Barton & Adam Cooper.