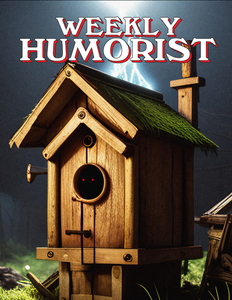 Weekly Humorist Magazine: Issue 311
CONTENTS
Issue 311

LinkedIn Recommendations for Halloween
by MIKE CALAHAN and EDNA CONSTANTINO
Not like digging own cadavers for unholy experiments? I recommend Igor to scientist looking for qualified, reliable lab tech. Igor friend. Misshapen back is ugly rumor, total fake news.

Failed Pitches From The Guy Who Invented Flamin' Hot Cheetos
by DRE KOVAL
Boilin' Hot Mountain Dew, Soppin Wet Doritos, Pepsi flavored Coke, and more!

How to Tell Whether Someone is a Spooky Costume Person, a Silly Costume Person, or a Sexy Costume Person
by GARY M. ALMETER and REESE CASSARD
If someone knows their high score in The Addams Family pinball game, they are a sexy costume person. (This year: A very suggestive Cousin Itt) If someone has a Snoopy tattoo, they are a silly costume person. (This year: Gumby) And more!

No Treats? Here Are Some New Tricks!
by KIT LIVELY
Your identity disguised by a Halloween costume, moon their Ring doorbell camera. Set up a dozen or so porta potties on their front lawn. Trap a particularly violent poltergeist in their bird-house. And more!

A Haunting Plea to the HOA: Halloween Decor Disaster
by NOEL LEON
Greetings from Apartment 3B, where Paul, the self-proclaimed defender of sanity, would like to issue a pre-emptive strike against the impending Halloween decor about to engulf our building.

#HauntedHousewares
by WEEKLY HUMORIST HASHTAG GAMES
Coven Mitts, Lights Witch, Scare Conditioning, and more #HauntedHousewares in this week's trending joke game!

Cartoons by
Amanda Chung & Vin Coca, Michael Shaw, Bob Eckstein, Andrew Dicus, Steve Daugherty.